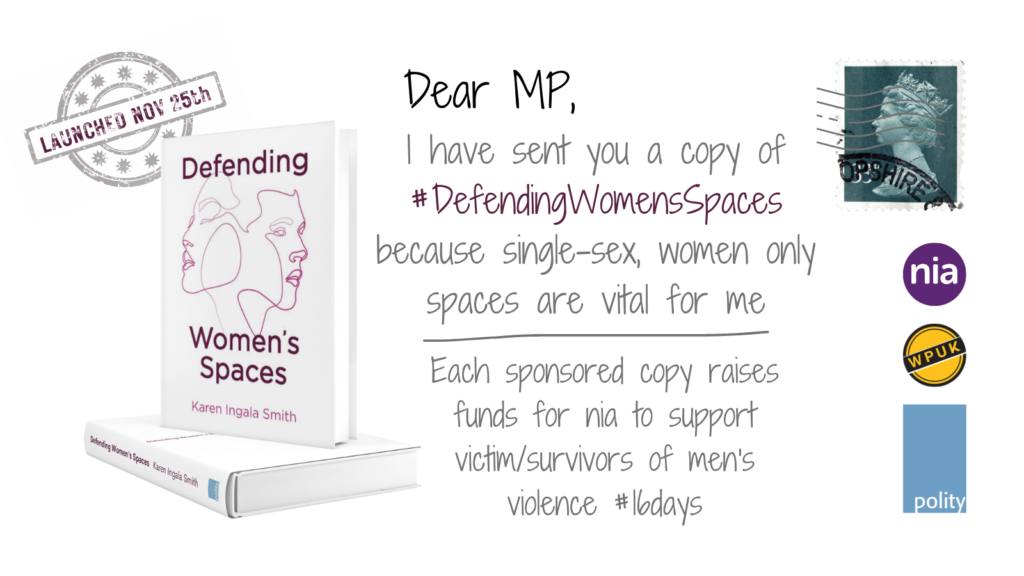 nia and Woman's Place UK would like every MP to know why women-only spaces are so important,
particularly for women victim-survivors of men's violence. Can you help us get a copy of Karen Ingala Smith's book "Defending Women's Spaces" into their hands?
Please sponsor a gift copy to be sent to your MP or devolved national legislature representative (Scottish Parliament, Welsh Parliament or Northern Ireland Assembly).
Tell us who you'd like to send your gift to, and we'll put it in the post with a letter from nia and WPUK and your personal message.
Or if you're happy to leave the choice to us, please just sponsor a copy.
So far, 572 copies have been sponsored with 252 out of 868 MPs and representatives identified (updated daily).
FAQs
What if someone else has already sponsored a copy for my MP / representative?
If more than one person sponsors a copy for the same MP or representative, we will send them a single copy with all the messages from everyone who has nominated them, and use the funds to sponsor a copy to someone else.
Can I donate more than one copy?
You certainly can! Just come back to this page each time to add the details of who to send it to if there are particular people.
What if I don't mind who gets my sponsored copy/copies?
Just tick the box marked 'I don't mind who my copy goes to.'
How can I make sure this makes a difference?
We encourage you to follow up sending a copy of the book with a letter to your MP/political representative to discuss the issues that you want them to consider. You can find a draft letter here. You could write, request a meeting or both.
How are you funding this?
The publisher Polity has supplied nia with books at a discounted rate, so that we're able to cover the cost of postage and packing and still supply books for the campaign at the normal retail price of £15.99. Any money left over will be donated to nia.
Donate to support nia or WPUK
nia supports women and girls in north east London who have been subjected so sexual or domestic violence and abuse, including prostitution. nia was the first such UK organisation to develop a Prioritising Women Policy to use the provisions of the Equality Act 2010 to provide single-sex spaces.
Find out more about nia
Donate to support nia's work with women and girls
Woman's Place UK is a group of women from a range of backgrounds united by our belief that women's hard-won rights must be defended. WPUK was founded in 2017 to ensure women's voices would be heard in the consultation on proposals to change the Gender Recognition Act; since then our campaign has evolved into a broader women's rights campaign.
Find out more about WPUK
Donate to support WPUK
Smallprint
Your details (name, donation amount and comment) are kept private. Your name and message will be visible to the recipient unless you tick the box 'do not include my name in the message'. nia and WPUK's Privacy Policies applies to this campaign. We will erase the names and addresses of the people we are sending the book to after we have posted the book.
We reserve the right to edit, redact or exclude messages that are highly offensive or abusive.
All donations will be used in furtherance of the organisation's aims.